Culture vs. Christianity Part 13: Fear vs. Freedom
Easter Sunday, April 5, 2015
I Corinthians 15
Easter Brings Freedom
After the Sabbath, at dawn on the first day of the week, Mary Magdalene and the other Mary went to look at the tomb.
There was a violent earthquake, for an angel of the Lord came down from heaven and, going to the tomb, rolled back the stone and sat on it. His appearance was like lightning, and his clothes were white as snow. The guards were so afraid of him that they shook and became like dead men.
The angel said to the women, "Do not be afraid, for I know that you are looking for Jesus, who was crucified. He is not here; he has risen, just as he said. Come and see the place where he lay. Then go quickly and tell his disciples: 'He has risen from the dead and is going ahead of you into Galilee. There you will see him.' Now I have told you."
So the women hurried away from the tomb, afraid yet filled with joy, and ran to tell his disciples. Suddenly Jesus met them. "Greetings," he said. They came to him, clasped his feet and worshiped him. Then Jesus said to them, "Do not be afraid. Go and tell my brothers to go to Galilee; there they will see me."
…Then the eleven disciples went to Galilee, to the mountain where Jesus had told them to go. When they saw him, they worshiped him; but some doubted. Then Jesus came to them and said, "All authority in heaven and on earth has been given to me. Therefore go and make disciples of all nations, baptizing them in the name of the Father and of the Son and of the Holy Spirit, and teaching them to obey everything I have commanded you. And surely I am with you always, to the very end of the age."
Matthew 28:1-20
What's to Fear?
heights…flying…closed spaces…public speaking…the dark…clowns!…spiders…death.
"This is one of the great passages in the NT, not only in terms of Paul's own argumentation, but especially in terms of the true significance of Easter. The resurrection of Christ has determined our existence for all time and eternity. We do not merely live out our length of days and then have the hope of resurrection as an addendum; rather, as Paul makes plain in this passage, Christ's resurrection has set in motion a chain of inexorable events that absolutely determines our present and future. Christ is the first fruits of those who are his, who will be raised at his coming. That truth ought both to reform the way we currently live and to reshape our worship into seasons of unbridled rejoicing."    -Gordon Fee
Fear vs. Freedom
But if it is preached that Christ has been raised from the dead, how can some of you say that there is no resurrection of the dead? If there is no resurrection of the dead, then not even Christ has been raised. And if Christ has not been raised, our preaching is useless and so is your faith. More than that, we are then found to be false witnesses about God, for we have testified about God that he raised Christ from the dead. But he did not raise him if in fact the dead are not raised. For if the dead are not raised, then Christ has not been raised either. And if Christ has not been raised, your faith is futile; you are still in your sins. Then those also who have fallen asleep in Christ are lost. If only for this life we have hope in Christ, we are of all people most to be pitied.
But Christ has indeed been raised from the dead, the firstfruits of those who have fallen asleep!
I declare to you, brothers and sisters, that flesh and blood cannot inherit the kingdom of God, nor does the perishable inherit the imperishable….For the perishable must clothe itself with the imperishable, and the mortal with immortality. When the perishable has been clothed with the imperishable, and the mortal with immortality, then the saying that is written will come true:
"Death has been swallowed up in victory."
"Where, O death, is your victory?
    Where, O death, is your sting?"
…But thanks be to God, He gives us the victory through our Lord Jesus Christ.
Therefore, my dear brothers and sisters, stand firm. Let nothing move you. Always give yourselves fully to the work of the Lord, because you know that your labor in the Lord is not in vain. 1 Corinthians 15:12..58
Colton's Story  https://www.youtube.com/watch?v=hhT36Dizo2s
Because of Easter you are now free to do some scary things!
Because of Easter you are now free to give of yourself.
Therefore if you have any encouragement from being united with Christ…Do nothing out of selfish ambition or vain conceit. Rather, in humility value others above yourselves, not looking to your own interests but each of you to the interests of the others. Philippians 2:1-4
Because of Easter you are now free to forgive others.
"Bear with each other and forgive one another if any of you has a grievance against someone. Forgive as the Lord forgave you." Colossians 3:13
Your are now free to give and forgive.
Culture vs. Christianity Part 12: Crown vs. Cross
Sunday, March 29, 2015
I Corinthians 15:1-11; 1:18-24
Palm Sunday
The next day the great crowd that had come for the festival heard that Jesus was on his way to Jerusalem. They took palm branches and went out to meet him, shouting, "Hosanna!"
"Blessed is he who comes
in the name of the Lord!"
"Blessed is the king of Israel!"
Jesus found a young donkey and sat on it, as it is written:
"Do not be afraid, Daughter Zion; see, your king is coming,  seated on a donkey's colt."
John 12:12-15
Crown vs. Cross
I Corinthians 15:1-11
Now, brothers and sisters, I want to remind you of the gospel I preached to you, which you received and on which you have taken your stand. By this gospel you are saved, if you hold firmly to the word I preached to you. Otherwise, you have believed in vain.
For what I received I passed on to you as of first importance: that Christ died for our sins according to the Scriptures, that he was buried, that he was raised on the third day according to the Scriptures, and that he appeared to Cephas, and then to the Twelve. After that, he appeared to more than five hundred of the brothers and sisters at the same time, most of whom are still living, though some have fallen asleep. Then he appeared to James, then to all the apostles, and last of all he appeared to me also, as to one abnormally born…
Whether, then, it is I or they, this is what we preach, and this is what you believed.
I Corinthians 1:18-25
For the message of the cross is foolishness to those who are perishing, but to us who are being saved it is the power of God. For it is written:
"I will destroy the wisdom of the wise;
the intelligence of the intelligent I will frustrate."
Where is the wise person? Where is the teacher of the law? Where is the philosopher of this age? Has not God made foolish the wisdom of the world? For since in the wisdom of God the world through its wisdom did not know him, God was pleased through the foolishness of what was preached to save those who believe. Jews demand signs and Greeks look for wisdom, but we preach Christ crucified: a stumbling block to Jews and foolishness to Gentiles, but to those whom God has called, both Jews and Greeks, Christ the power of God and the wisdom of God.
Royal Expectations
At the time of Jesus, the expectation for the Jewish Messiah, the hero which the Old Testament spoke about, was for a strong military leader, similar to King David, who would come and deliver Israel from Roman bondage and set up a kingdom where Israel would rule. The people of Jerusalem clearly expressed this belief as they shouted praises to God for the mighty works they had seen Jesus do and called out, "Hosanna, save us," when He rode into Jerusalem on a donkey. They treated Him like a conquering king. Then, when He allowed Himself to be arrested, tried, and crucified on a cursed cross, most of the people, seemingly even his closest disciples, stopped believing that He was the promised prophet. -OT Survey, W. Dumbrell
Jesus Followed a Different Path to Bring Salvation…the Path of the Cross
Cross Examination
Crucifixion started first with the Persians and involved nailing criminals to trees. Alexander the Great introduced the practice to Carthage, where it was picked up by the Romans. The Romans started using it around the time Jesus was born.
The Romans perfected crucifixion as a punishment designed to maximize pain and suffering. It wasn't about killing somebody — it was about killing somebody by inflicting the maximum amount of pain.
Crucifixion was also the most disgraceful form of execution. It was usually reserved for slaves, foreigners, revolutionaries, and vile criminals. The only time a Roman citizen was ever crucified was for desertion from the army.
Crucifixion usually followed a thorough flogging which was incredibly painful in itself. The victim would carry his own cross bar from the flogging area inside the city to the crucifixion area outside of the city walls. The crucifixion area was always outside the city, because the process was so horrible and disturbing to citizens.
The victim was escorted by a Roman guard were responsible for guarding the victim until his death. One of the soldiers would display a sign with the crime written on it.
The victim would then be nailed to the cross bar. The cross bar would be raised and placed on the upright post, where the victims feet would be nailed to the post.
Once crucified, a victim would live for a period ranging from a few hours to a few days. How long he lived depended mostly on how severe the flogging was.
If no one claimed the body, it would be left on the cross to be eaten by predatory animals. The family could, however, claim the body for burial. In this case, a Roman soldier would pierce the chest with a sword or spear to make sure the victim was dead.
Whoever wants to be my disciple must deny themselves 
and take up their cross and follow me.
Matthew 16:24…Mark 8:34…Luke 9:23 (daily!)
2 Challenges from Holy Week
Resist Forming My Own Expectations of The King
Follow My King's Path to Bring His Salvation
Culture vs. Christianity Part 11: Ego vs. Agape
Sunday, March 22, 2015
I Corinthians 13
Ego vs. Agape
I Corinthians 13:1-13
And yet I will show you the most excellent way…
If I speak in the tongues of men or of angels, but do not have love, I am only a resounding gong or a clanging cymbal. If I have the gift of prophecy and can fathom all mysteries and all knowledge, and if I have a faith that can move mountains, but do not have love, I am nothing. If I give all I possess to the poor and give over my body to hardship that I may boast, but do not have love, I gain nothing.
Love is patient, love is kind. It does not envy, it does not boast, it is not proud. It does not dishonor others, it is not self-seeking, it is not easily angered, it keeps no record of wrongs. Love does not delight in evil but rejoices with the truth. It always protects, always trusts, always hopes, always perseveres. Love never fails.
But where there are prophecies, they will cease; where there are tongues, they will be stilled; where there is knowledge, it will pass away. For we know in part and we prophesy in part, but when completeness comes, what is in part disappears…For now we see only a reflection as in a mirror; then we shall see face to face. Now I know in part; then I shall know fully, even as I am fully known. And now these three remain: faith, hope and love. But the greatest of these is love.
"How do I love thee…let me count the ways"
4 Terms for Love in Greek:
Storge
Family
Philia
Friendship
Eros
Romance
Agape
Unconditional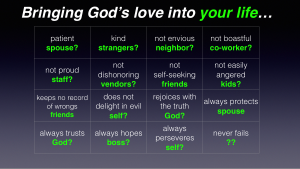 Who is one person you can offer unconditional love to this week?
Culture vs. Christianity Part 10: Solo vs. Soma
Sunday, March 15, 2015
I Corinthians 12:1-31
Body by God
Now about the gifts of the Spirit, brothers and sisters, I do not want you to be uninformed…There are different kinds of gifts, but the same Spirit distributes them. There are different kinds of service, but the same Lord. There are different kinds of working, but in all of them and in everyone it is the same God at work. Now to each one the manifestation of the Spirit is given for the common good. To one there is given through the Spirit a message of wisdom, to another a message of knowledge by means of the same Spirit, to another faith by the same Spirit, to another gifts of healing by that one Spirit, to another miraculous powers, to another prophecy, to another distinguishing between spirits, to another speaking in different kinds of tongues,and to still another the interpretation of tongues. All these are the work of one and the same Spirit, and he distributes them to each one, just as he determines.
Just as a body, though one, has many parts, but all its many parts form one body, so it is with Christ. For we were all baptized by one Spirit so as to form one body—whether Jews or Gentiles, slave or free—and we were all given the one Spirit to drink. Even so the body is not made up of one part but of many.
Now if the foot should say, "Because I am not a hand, I do not belong to the body," it would not for that reason stop being part of the body. And if the ear should say, "Because I am not an eye, I do not belong to the body," it would not for that reason stop being part of the body. If the whole body were an eye, where would the sense of hearing be? If the whole body were an ear, where would the sense of smell be? But in fact God has placed the parts in the body, every one of them, just as he wanted them to be. If they were all one part, where would the body be? As it is, there are many parts, but one body. Now you are the body of Christ, and each one of you is a part of it.
The New Testament Uses 2 Terms to Describe the Church
Ekklesia: the assembly
Soma : the body
And God placed all things under his feet and appointed him to be head over everything for the church, which is his body, the fullness of him who fills everything in every way.
Ephesians 1:22-23
Spiritual Gifts
"God has given you unique abilities, talents, and gifts. This bundle of gifts is the thing God has given you that makes you who you are and sets you apart from other people. If you think your gifts and talents are simply for you to make a lot of money, retire, and die, you've missed the point of your life. God gave you talents to benefit others, not yourself. And God gave other people talents that benefit you. We're all a part of the body of Christ, and each part matters. There are no insignificant people in the family of God."
– Rick Warren, author of The Purpose Driven Life
Everything is Awesome, Everything is Cool When You're Part of a Team
Unwrapping Your Gifts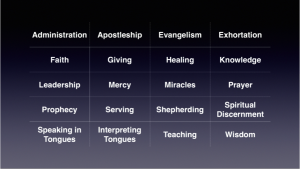 We are called to discover & use our gifts!                                                                                                       "For we are God's handiwork, created in Christ Jesus to do good works, which God prepared in advance for us to do."  Ephesians 2:10
         poema – workmanship, masterpiece, creation…the root of our English word poem.
Get feedback from others who know you.                                                                                                     "Plans fail for lack of counsel, but with many advisors they succeed." Proverbs 15:22
Jump in and try something!                                                                                                                             "May the God of peace…equip you with everything good for doing his will, and may he work in us what is pleasing to him, through Jesus Christ, to whom be glory for ever and ever. Amen"  Hebrews 13:20-22
Culture vs. Christianity Part 9: Cliques vs. Community
Sunday March 8, 2015
I Corinthians 11:17-34
Too Cool in Corinth
I Corinthians 11:17-34
In the following directives I have no praise for you, for your meetings do more harm than good. In the first place, I hear that when you come together as a church, there are divisions among you, and to some extent I believe it…So then, when you come together, it is not the Lord's Supper you eat, for when you are eating, some of you go ahead with your own private suppers. As a result, one person remains hungry and another gets drunk. Don't you have homes to eat and drink in? Or do you despise the church of God by humiliating those who have nothing? What shall I say to you? Shall I praise you? Certainly not in this matter!
For I received from the Lord what I also passed on to you: The Lord Jesus, on the night he was betrayed, took bread, and when he had given thanks, he broke it and said, "This is my body, which is for you; do this in remembrance of me." In the same way, after supper he took the cup, saying, "This cup is the new covenant in my blood; do this, whenever you drink it, in remembrance of me." For whenever you eat this bread and drink this cup, you proclaim the Lord's death until he comes.
So then, whoever eats the bread or drinks the cup of the Lord in an unworthy manner will be guilty of sinning against the body and blood of the Lord. Everyone ought to examine themselves before they eat of the bread and drink from the cup. So then, my brothers and sisters, when you gather to eat, you should all eat together. Anyone who is hungry should eat something at home, so that when you meet together it may not result in judgment. And when I come I will give further directions.
Communion Cliques
Transubstantiation…the view that the elements of bread and wine metaphysically change into the actual body and blood of Christ, although the elements appear as bread and wine. This view is held by the Roman Catholic Church and Orthodox Church.
Consubstantiation…the view that the elements of bread and wine remain the same in part while the physical presence of Christ is "in, with, and under" the bread and wine. This view is held by the Lutheran church.
Spiritual Presence…the view held by Reformed churches (e.g. Presbyterian) that acknowledges that while the bread and wine are symbolic of Christ's body and blood and, therefore, do not physically change, the act is more than a mere memorial of Christ's work. Jesus is spiritually present in the elements through the discerning faith of a believer who is strengthened and nourished in spirit by partaking in the sacrament.
Memorial…the (Baptist) view of Communion which is not sacramental but what is called memorial or commemorative. Churches with this view consider the practice to be purely an act of remembering the work of Christ on the cross with the same spiritual presence or intensity as any other form of worship (prayer, praise, Bible study, etc.).
Form Without Substance…the (Quaker) view that the physical elements of bread and juice are not necessary in order to celebrate Christ's sacrificial work. Communion is enacted as a purely spiritual form without the need for the physical substance.
Building Community…3 Key Steps to Take
Consistency
And let us consider how we may spur one another on toward love and good deeds, not giving up meeting together, as some are in the habit of doing, but encouraging one another." Hebrews 10:24-25
Caring Closely
Are not five sparrows sold for two pennies? Yet not one of them is forgotten by God.
Luke 12:6
extra-Curricular time
Then Barnabas went to Tarsus to look for Saul, 26 and when he found him, he brought him to Antioch. So for a whole year Barnabas and Saul met with the church and taught great numbers of people. The disciples were called Christians first at Antioch. Acts 11:25-26
True Community Involves
Consistency
Caring closely for one another
extra-Curricular time together
Culture vs. Christianity Part 8: Freedom vs. Sacrifice
Sunday, March 1, 2015
I Corinthians 8:1-13 Sunday February 15, 2015
We Live in a Very Competitive Culture…
 Winning isn't everything, it's the only thing.
-Vince Lombardi
It kills me to lose. That's the way I am about winning,
all I ever wanted to do was finish first.
-Jackie Robinson
The person that said winning isn't everything, never won anything.
-Mia Hamm
There is no 'i' in team but there is in win.
-Michael Jordan
Paul's Winning Strategy I Corinthians 9:19-27
Though I am free and belong to no one, I have made myself a slave to everyone, to win as many as possible. To the Jews I became like a Jew, to win the Jews. To those under the law I became like one under the law (though I myself am not under the law), so as to win those under the law. To those not having the law I became like one not having the law (though I am not free from God's law but am under Christ's law), so as to win those not having the law. To the weak I became weak, to win the weak. I have become all things to all people so that by all possible means I might save some. I do all this for the sake of the gospel, that I may share in its blessings.
 Christ's Law: A new command I give you: Love one another.As I have loved you, so you must love one another.   John 13:34-35
 [Historical Background…History tells us that the Olympic Games began in the 7th century, BC, in Olympia Greece, and that they were held every fourth year, almost continually, for 1,200 years. During that time period, the Greeks even marked their calendars in four-year periods called Olympiads.
In 393 AD, the Roman Emperor Theodosius declared the Games corrupt and ended them.The Ancient Games featured running events, a pentathlon (consisting of a jumping event, discus and javelin throws, a foot race, and wrestling), boxing, wrestling, pankration, and equestrian events.]
Do you not know that in a race all the runners run, but only one gets the prize? Run in such a way as to get the prize. Everyone who competes in the games goes into strict training. They do it to get a crown that will not last, but we do it to get a crown that will last forever. Therefore I do not run like someone running aimlessly; I do not fight like a boxer beating the air. No, I strike a blow to my body and make it my slave so that after I have preached to others, I myself will not be disqualified for the prize.
 Victory = Sacrifice + Preparation
 Greek "nike": victory, conqueror.
Though I am free and belong to no one, I have made myself a slave to everyone, to win as many as possible. (v. 19)
 Run in such a way as to get the prize. Everyone who competes in the games goes into strict training. They do it to get a crown that will not last, but we do it to get a crown that will last forever. (vv. 24-25)
 Jesus' Winning Style
Here is my servant whom I have chosen, the one I love, in whom I delight; I will put my Spirit on him, and he will proclaim justice to the nations. He will not quarrel or cry out, no one will hear his voice in the streets. A bruised reed he will not break, and a smoldering wick he will not snuff out, till he has brought justice through to victory. Matthew 12:18-20 (quoting the prophet Isaiah)
Our Challenge: How can we win in someone's life this week?
Culture vs. Christianity Part 7: License vs. Love
Sunday February 15, 2015
I Corinthians 8:1-13  
What's Cookin' in Corinth…I Corinthians 8:1-13
Now about food sacrificed to idols: We know that "We all possess knowledge." But knowledge puffs up while love builds up. Those who think they know something do not yet know as they ought to know. But whoever loves God is known by God.
So then, about eating food sacrificed to idols: We know that "An idol is nothing at all in the world" and that "There is no God but one." For even if there are so-called gods, whether in heaven or on earth (as indeed there are many "gods" and many "lords"), 6 yet for us there is but one God, the Father, from whom all things came and for whom we live; and there is but one Lord, Jesus Christ, through whom all things came and through whom we live. But not everyone possesses this knowledge. Some people are still so accustomed to idols that when they eat sacrificial food they think of it as having been sacrificed to a god, and since their conscience is weak, it is defiled. But food does not bring us near to God; we are no worse if we do not eat, and no better if we do. Be careful, however, that the exercise of your rights does not become a stumbling block to the weak. For if someone with a weak conscience sees you, with all your knowledge, eating in an idol's temple, won't that person be emboldened to eat what is sacrificed to idols? So this weak brother or sister, for whom Christ died, is destroyed by your knowledge. When you sin against them in this way and wound their weak conscience, you sin against Christ. Therefore, if what I eat causes my brother or sister to fall into sin, I will never eat meat again, so that I will not cause them to fall.
Despite the fact that Western Christianity for over a millennium has had nothing in its culture comparable to this issue, this text has had a long history of use in the church in the form of the 'stumbling block principle.'
The real concern of the passage needs a regular hearing in the church . Personal behavior is dictated not by knowledge, freedom, or law, but by love for those within the community of faith. Everything one does that affects relationships within the body of Christ should have care for brothers and sisters as its primary motivation. -Gordon Fee
Similar Issues in Rome…Romans 14
"…One person's faith allows them to eat anything, but another, whose faith is weak, eats only vegetables. The one who eats everything must not treat with contempt the one who does not, and the one who does not eat everything must not judge the one who does, for God has accepted them…One person considers one day more sacred than another; another considers every day alike. Each of them should be fully convinced in their own mind. Whoever regards one day as special does so to the Lord. Whoever eats meat does so to the Lord, for they give thanks to God; and whoever abstains does so to the Lord and gives thanks to God…"
Book Smart vs. Heart Smart
The tyranny of knowledge as the basis of Christian ethics has a long and unfortunate history in the church, from which most likely few who read – as well as the one who writes – this commentary are exempt. Once one's theology is properly in hand, it is especially tempting to use it as a club on others. And in this case, it happens from the theological right as well as from the left. This does not mean that knowledge is either irrelevant or unimportant, but it does mean that it cannot serve as the primary basis of Christian behavior. In Christian ethics "knowledge" must always lead to love.  — Gordon Fee
"…knowledge puffs up while love builds up. Those who think they know something
do not yet know as they ought to know."  I Corinthians 8:1-2
What is your learning to loving ratio?
What good is it, my brothers and sisters, if someone claims to have faith but has no deeds? Can such faith save them? Suppose a brother or a sister is without clothes and daily food. If one of you says to them, "Go in peace; keep warm and well fed," but does nothing about their physical needs, what good is it? In the same way, faith by itself, if it is not accompanied by action, is dead. Show me your faith without deeds, and I will show you my faith by my deeds…You believe that there is one God. Good! Even the demons believe that—and shudder. James 2:14-19
"Why does your teacher eat with tax collectors and sinners?" On hearing this, Jesus said, "It is not the healthy who need a doctor, but the sick. But go and learn what this means: 'I desire mercy, not sacrifice.' Matthew 9:11-13
I'm after love that lasts, not more religion. Hosea 6:6 (The Message)
God's Favorite Word
The Hebrew word for mercy in Hosea is a very important term in the Old Testament, much like the Greek word agape in the New Testament. The word, hesed,
is used 248 times in the O.T. While it is often translated 'mercy' or 'loving kindness' the fact is we have no English equivalent which bring out its full meaning.
Hesed is a self-sacrificing, faithful, costly, undeserved, voluntary love.
Let's not be The Church Who Knew Too Much but The Church Who Loved Much!
Culture vs. Christianity Part 6: Sexual Brokenness vs. Spiritual Wholeness
I Corinthians 6:1-8
Sunday February 15, 2015
Can't Sugarcoat Valentine's
Valentinius was a Roman Priest during the reign of Emperor Claudius II who persecuted the early church. He also had created an edict that prohibited the marriage of young people. This was based on the belief that unmarried soldiers fought better than married soldiers because married soldiers might be afraid of what might happen to them or their wives or families if they died. It was a very permissive society in which Valentine lived. Polygamy would have been much more popular than just one woman and one man living together. But obviously the church thought that marriage was very sacred between one man and one woman for their life and that it was to be encouraged. The idea of encouraging people to marry within the Christian church was what Valentine was about. And he secretly married young couples because of the edict. Valentine was eventually caught, imprisoned and tortured for performing marriage ceremonies against command of Emperor Claudius. It is said that while Valentine was imprisoned he prayed for the daughter of his judge who was then healed from blindness. In the year 269 AD, Valentine was sentenced to a three part execution of a beating, stoning, and finally decapitation all because of his stand for Christian marriage. The story goes that the last words he wrote were in a note to the judge's daughter which ended in "from your Valentine."
The Influence of Hellenistic Dualism
This passage needs to be understood in light of every encroachment of Hellenistic dualism that would negate the body in favor of the soul. God made us whole people; and in Christ he has redeemed us wholly. In the Christian view there is no dichotomy between body and spirit that either indulges the body because it is irrelevant or punishes it so as to purify the spirit. -Gordon Fee
The Sexually Broken Culture of Corinth
Sexual promiscuity, including the widespread acceptance of prostitution, was deeply woven into Greek life. Demosthenes had laid it down as the common and accepted rule of life: "We have courtesans for the sake of pleasure; we have concubines for the sake of daily cohabitation; we have wives for the purpose of having children legitimately, and having a faithful guardian for all our household affairs." -William Barclay
Transforming Brokenness to Wholeness I Corinthians 6:12-7:9 (The Message)
Just because something is technically legal doesn't mean that it's spiritually appropriate. If I went around doing whatever I thought I could get by with, I'd be a slave to my whims.You know the old saying, "First you eat to live, and then you live to eat"? Well, it may be true that the body is only a temporary thing, but that's no excuse for stuffing your body with food, or indulging it with sex. Since the Master honors you with a body, honor him with your body!God honored the Master's body by raising it from the grave. He'll treat yours with the same resurrection power. Until that time, remember that your bodies are created with the same dignity as the Master's body. You wouldn't take the Master's body off to a prostitute's house, would you? I should hope not. There's more to sex than mere skin on skin. Sex is as much spiritual mystery as physical fact. As written in Scripture, "The two become one." Since we want to become spiritually one with the Master, we must not pursue the kind of sex that avoids commitment and intimacy, leaving us more lonely than ever—the kind of sex that can never "become one." There is a sense in which sexual sins are different from all others. In sexual sin we violate the sacredness of our own bodies, these bodies that were made for God-given and God-modeled love, for "becoming one" with another. Or didn't you realize that your body is a sacred place, the place of the Holy Spirit? Don't you see that you can't live however you please, squandering what God paid such a high price for? The physical part of you is not some piece of property belonging to the spiritual part of you. God owns the whole works. So let people see God in and through your body. Now, getting down to the questions you asked in your letter to me.
First, Is it a good thing to have sexual relations? Certainly—but only within a certain context. It's good for a man to have a wife, and for a woman to have a husband. Sexual drives are strong, but marriage is strong enough to contain them and provide for a balanced and fulfilling sexual life in a world of sexual disorder. The marriage bed must be a place of mutuality—the husband seeking to satisfy his wife, the wife seeking to satisfy her husband. Marriage is not a place to "stand up for your rights." Marriage is a decision to serve the other, whether in bed or out. Abstaining from sex is permissible for a period of time if you both agree to it, and if it's for the purposes of prayer and fasting—but only for such times. Then come back together again. Satan has an ingenious way of tempting us when we least expect it. I'm not, understand, commanding these periods of abstinence—only providing my best counsel if you should choose them. Sometimes I wish everyone were single like me—a simpler life in many ways! But celibacy is not for everyone any more than marriage is. God gives the gift of the single life to some, the gift of the married life to others. I do, though, tell the unmarried and widows that singleness might well be the best thing for them, as it has been for me. But if they can't manage their desires and emotions, they should by all means go ahead and get married. The difficulties of marriage are preferable by far to a sexually tortured life as a single.
Our physical, mental, & emotional experiences all directly impact our spiritual condition.
There's more to sex than mere skin on skin. Sex is as much spiritual mystery as physical fact."              I Corinthians 6:15
"You're familiar with the command to the ancients, 'Do not murder.' I'm telling you that anyone who is so much as angry with a brother or sister is guilty of murder. Carelessly call a brother 'idiot!' and you just might find yourself hauled into court. Thoughtlessly yell 'stupid!' at a sister and you are on the brink of hellfire. The simple moral fact is that words kill. – Jesus from Matthew 5:21-22
"You have heard that it was said, 'You shall not commit adultery.' But I tell you that anyone who looks at a woman lustfully has already committed adultery with her in his heart. – Jesus from Matthew 5:27-28
God wants you to experience His gifts of sexuality or celibacy well!
"God gives the gift of the single life to some, the gift of the married life to others." I Corinthians 7:7
For the married…Drink water from your own cistern, running water from your own well…May your fountain be blessed, and may you rejoice in the wife of your youth. A loving doe, a graceful deer—may her breasts satisfy you always, may you ever be intoxicated with her love. Proverbs 5:18-19
For the Single…Seek first his kingdom and his righteousness, and all these things will be given to you as well." Matthew 6:33
Whether Married or Single…Practice Being a Giver
You'll not likely go wrong here if you keep remembering that our Master said, 'You're far happier giving than getting.' Acts 20:35 (The Message)
Culture vs. Christianity Part 5: Rights vs. Righteous I Corinthians 6:1-8
Sunday February 8, 2015
Reserve Your Rights…I Corinthians 6:1-8 
If any of you has a dispute with another, do you dare to take it before the ungodly for judgment instead of before the Lord's people? Or do you not know that the Lord's people will judge the world? And if you are to judge the world, are you not competent to judge trivial cases? Do you not know that we will judge angels? How much more the things of this life! Therefore, if you have disputes about such matters, do you ask for a ruling from those whose way of life is scorned in the church?
Historical Note: [Some things never change…]
"Entering into litigation was an expensive and extremely inconvenient matter in Paul's time. It was very rare that a poorer person ever won a lawsuit against a richer person. Thus it is likely that the lawsuits that Paul is referring to would have been brought by a wealthier member of the Corinthian church against a poorer member. If so the secular judge would have seen the wealthy Christian using the judicial system to practice injustice against a brother in Christ." – Ben Witherington
I say this to shame you. Is it possible that there is nobody among you wise enough to judge a dispute between believers? But instead, one brother takes another to court –
and this in front of unbelievers!
The very fact that you have lawsuits among you means you have been completely defeated already.
Why not rather be wronged? Why not rather be cheated? Instead, you yourselves cheat and do wrong, and you do this to your brothers and sisters.
Something we rarely view as an option:
Why not rather be wronged?
Why not rather be cheated?
Jesus' option in response to injustice: 
"You have heard that it was said, 'Eye for eye, and tooth for tooth.' But I tell you, do not resist an evil person. If anyone slaps you on the right cheek, turn to them the other cheek also. And if anyone wants to sue you and take your shirt, hand over your coat as well. If anyone forces you to go one mile, go with them two miles. Give to the one who asks you, and do not turn away from the one who wants to borrow from you. You have heard that it was said, 'Love your neighbor and hate your enemy.' But I tell you, love your enemies and pray for those who persecute you, that you may be children of your Father in heaven." Matthew 5:38-42
"A Christian never sees his rights this side of heaven."
-Dr. Peter Hintzoglou
An intimate relationship with God allows a freedom and security that
does not require a life of fairness.
I know what it is to be in need, and I know what it is to have plenty.
I have learned the secret of being content in any and every situation, whether well fed or hungry, whether living in plenty or in want. I can do all things through him who gives me strength. Philippians 4:12-13
Laying down my rights does something powerful in me and for the other person.
This is how we know what love is: Jesus Christ laid down his life for us. And we ought to lay down our lives for our brothers and sisters. 1 John 3:16
Questions requiring Wisdom:
1. What about defending another person's rights?
2. What about involvement in an abusive relationship?
Is there a situation in your life where you feel – or have felt – unfairly treated that God could show you how to experience spiritual victory instead of defeat?
Culture vs. Christianity
Part 4: Complacency vs. Accountability I Corinthians 5
Sunday January 25, 2015
The Problem The Christian Church Has Created for Itself:
Many on the outside looking in feel as though Christians are full of judgment and empty of love.
One of the most dominant views about Christians today is that they are judgmental. According to a study* of people ages 16–29 in the United States, nearly 90 percent of respondents articulated this opinion of Christians and the practice of their faith, for example:
"Christians only like to hear themselves talk."
"They are arrogant about their beliefs." 
"They never bother figuring out what other people actually think." 
"They don't seem to be very compassionate, especially when they feel      
strongly about something."
*The Barna Research Group and The Fermi Project, A New Generation Expresses its Skepticism and Frustration with Christianity.
How Christians are Supposed to Approach Those Outside the Faith:
Do not judge, or you too will be judged. For in the same way you judge others, you will be judged, and with the measure you use, it will be measured to you. – Jesus
"What business is it of mine to judge those outside the church? – Paul the Apostle
If you judge people, you have no time to love them. – Mother Theresa
It is the Holy Spirit's job to convict, God's job to judge and my job to love. – Billy Graham
Whenever the church leverages anything other than love, we go backward in our influence.
– Andy Stanley
 So understanding and applying I Corinthians 5 can be quite the challenge – in our culture as it was in Paul's.
Dealing with Spiritual Complacency – I Corinthians 5:1-13
(The Message Translation)
I also received a report of scandalous sex within your church family, a kind that wouldn't be tolerated even outside the church: One of your men is sleeping with his stepmother. And you're so above it all that it doesn't even faze you! Shouldn't this break your hearts? Shouldn't it bring you to your knees in tears? Shouldn't this person and his conduct be confronted and dealt with? I'll tell you what I would do. Even though I'm not there in person, consider me right there with you, because I can fully see what's going on. I'm telling you that this is wrong. You must not simply look the other way and hope it goes away on its own… …Your flip and callous arrogance in these things bothers me. You pass it off as a small thing, but it's anything but that. Yeast, too, is a "small thing," but it works its way through a whole batch of bread dough pretty fast. So get rid of this "yeast." Our true identity is flat and plain, not puffed up with the wrong kind of ingredient. The Messiah, our Passover Lamb, has already been sacrificed for the Passover meal, and we are the Unraised Bread part of the Feast. So let's live out our part in the Feast, not as raised bread swollen with the yeast of evil, but as flat bread—simple, genuine, unpretentious.
I wrote you in my earlier letter that you shouldn't make yourselves at home among the sexually promiscuous. I didn't mean that you should have nothing at all to do with outsiders of that sort. Or with crooks, whether blue- or white-collar. Or with spiritual phonies, for that matter. You'd have to leave the world entirely to do that! But I am saying that you shouldn't act as if everything is just fine when a friend who claims to be a Christian is promiscuous or crooked, is flip with God or rude to friends, gets drunk or becomes greedy and predatory. You can't just go along with this, treating it as acceptable behavior. I'm not responsible for what the outsiders do, but don't we have some responsibility for those within our community of believers? God decides on the outsiders, but we need to decide when our brothers and sisters are out of line and, if necessary, clean house.
From a Barna Group National Survey on Accountability…
"Because the underlying theme of the Christian life is one of being transformed from a selfish and self-driven individual to one who lives for and surrenders control of one's life to God, the practice of accountability for life choices and behavior is central to that process of transformation. Yet, a national survey by the Barna Group among people who describe themselves as Christian and involved in a church discovered that only 5% indicated that their church does anything to hold them accountable for integrating biblical beliefs and principles into their life."
"Barna Group studies among pastors and other church leaders have consistently shown that such leaders have a distaste for initiating any type of confrontation and conflict with congregants. Another barrier is that many followers of Christ are uncertain about the difference between judgement and discernment. Not wanting to be judgmental, they therefore avoid all confrontation about the other person's behavior – except, sometimes, gossip."
Principles of Healthy Accountability
Brothers and sisters, if someone is caught in a sin, you who live by the Spirit should restore that person gently. But watch yourselves, or you also may be tempted. Carry each other's burdens, and in this way you will fulfill the law of Christ. If anyone thinks they are something when they are not, they deceive themselves. Each one should test their own actions. Then they can take pride in themselves alone, without comparing themselves to someone else…"
Galatians 6:1-4
Goal is always to promote spiritual growth.
Initiated and invited by the person wishing to grow.
Mutual vulnerability and confidentiality by parties involved.
Bottom Line: We Need Each Other's Help to Grow
Two are better than one, because they have a good return for their labor:
If either of them falls down, one can help the other up.
But pity anyone who falls and has no one to help them up…
Though one may be overpowered, two can defend themselves.
A cord of three strands is not quickly broken.
Ecclesiastes 4:9-12
Culture vs. Christianity
Part 3: Pride vs. Power  I Corinthians 3-4
Sunday January 18, 2015
"Me Monster" (funny commentary on human pride by Brian Regan)
Paul's Contrasts of the Corinthian Pride
Divisions, Jealousy & Quarrelling……………………United in Mind & Thought
Still Needing Milk in Spiritual Infancy…….……Ready for Solid Spiritual Food
Alliances and factions around 'mere men'……Men are simply God's servants
Competing for Recognition………………..Partnering Under God's Leadership
Deceived by worldly wisdom…………….Humble as a 'fool' for God's wisdom
Judging by human standards…………………………Waits on God's judgment
Unaware of need for guidance…………….Unconditionally loves like a parent
Arrogantly rely on 'talk'…….……….Seeks the 'power' of the kingdom of God
A loving father writing to his prideful children…I Corinthians 3..4
Brothers and sisters, I could not address you as people who live by the Spirit but as people who are still worldly—mere infants in Christ. I gave you milk, not solid food, for you were not yet ready for it. Indeed, you are still not ready. You are still worldly. For since there is jealousy and quarreling among you, are you not worldly? Are you not acting like mere humans? For when one says, "I follow Paul," and another, "I follow Apollos," are you not mere human beings?
What, after all, is Apollos? And what is Paul? Only servants, through whom you came to believe—as the Lord has assigned to each his task. I planted the seed, Apollos watered it, but God has been making it grow. So neither the one who plants nor the one who waters is anything, but only God, who makes things grow. The one who plants and the one who waters have one purpose, and they will each be rewarded according to their own labor. For we are co-workers in God's service; you are God's field, God's building.
Do not deceive yourselves. If any of you think you are wise by the standards of this age, you should become "fools" so that you may become wise. For the wisdom of this world is foolishness in God's sight. As it is written: "He catches the wise in their craftiness"; and again, "The Lord knows that the thoughts of the wise are futile." So then, no more boasting about human leaders! This, then, is how you ought to regard us: as servants of Christ and as those entrusted with the mysteries God has revealed. …
Now, brothers and sisters, I have applied these things to myself and Apollos for your benefit, so that you may learn from us the meaning of the saying, "Do not go beyond what is written." Then you will not be puffed up in being a follower of one of us over against the other. For who makes you different from anyone else? What do you have that you did not receive? And if you did receive it, why do you boast as though you did not?
I am writing this not to shame you but to warn you as my dear children. Even if you had ten thousand guardians in Christ, you do not have many fathers, for in Christ Jesus I became your father through the gospel…
Some of you have become arrogant, as if I were not coming to you. But I will come to you very soon, if the Lord is willing, and then I will find out not only how these arrogant people are talking, but what power they have.
For the kingdom of God is not a matter of talk but of power.
Power (Greek): DUNAMIS
"Power in Action"
For the Spirit God gave us does not make us timid, but gives us power, love and self-discipline.   2 Timothy 1:7
Where is PRIDE holding you back from experiencing God's POWER in your life?
 Being content with what you have…                                                                                                           I know what it is to be in need, and I know what it is to have plenty. I have learned the secret of being content in any and every situation, whether well fed or hungry, whether living in plenty or in want. I can do all things through him who gives me strength. Philippians 4:12-13
 Asking or Offering Forgiveness…                                                                                                     Bear with each other and forgive one another if any of you has a grievance against someone. Forgive as the Lord forgave you. Colossians 3:13
 Resisting a Destructive Temptation…                                                                                          Therefore confess your sins to each other and pray for each other so that you may be healed.    James 5:16
Surrendering my pride releases God's power
"My grace is sufficient for you, for my power is made perfect in weakness."
– Jesus to Paul in 2 Corinthians 12:9
Culture vs. Christianity
Part 2: Human Wisdom vs. God's Wisdom I Corinthians 1:16-2:8
Sunday January 11, 2015
Greek God
A major conception of God, in Greek thought, was that God felt no influence from human emotion or feeling. Otherwise, to be persuaded by human anguish, suffering, joy, praise, etc; and that would make him at that moment inferior to his human subjects. That mentality grew to the point that the idea of a God who suffered was a complete contradiction in terms. Many Greek philosophers went so far as to say that to involve God in any human affairs was to insult His divinity.
 Celsus, a Greek critic of the early Christian church, often attacked the fledgling religion:
"God is good and beautiful and happy and is in that which is most beautiful and best. If then 'He descends to men' it involves change for him, and change from good to bad, from beautiful to ugly, from happiness to unhappiness, from what is best to what is worst. Who would choose such a change? God would never accept such a change."
 philo (love) + sophia (wisdom) = philosophy
 A major challenge for the Christian Gospel among the Greeks was their idea of a legitimate teacher of wisdom. What became known as sophists – expositors of wisdom – were men who were highly regarded for their oratory skills in presenting ideas and knowledge.
 The Greek historian, Philostratus describes one sophist, Adrian, as having such a reputation, that when his messenger appeared with a notice that he was to lecture, the senate emptied and even the people at the games abandoned them to flock to hear him.
 The Greeks were intoxicated with fine words; and to them the Christian preacher with his blunt message seemed a crude and uncultured figure, to be laughed at and ridiculed rather than to be listened to and respected."
– William Barclay
Finding True Wisdom – I Corinthians 1:16-2:7
 For the message of the cross is foolishness to those who are perishing, but to us who are being saved it is the power of God…Where is the wise person? Where is the teacher of the law? Where is the philosopher of this age? Has not God made foolish the wisdom of the world? For since in the wisdom of God the world through its wisdom did not know him, God was pleased through the foolishness of what was preached to save those who believe. Jews demand signs and Greeks look for wisdom, but we preach Christ crucified: a stumbling block to Jews and foolishness to Gentiles, but to those whom God has called, both Jews and Greeks, Christ the power of God and the wisdom of God. For the foolishness of God is wiser than human wisdom, and the weakness of God is stronger than human streng…When I came to you, I did not come with eloquence or human wisdom as I proclaimed to you the testimony about God. For I resolved to know nothing while I was with you except Jesus Christ and him crucified. I came to you in weakness with great fear and trembling. My message and my preaching were not with wise and persuasive words, but with a demonstration of the Spirit's power, so that your faith might not rest on human wisdom, but on God's power.  We do, however, speak a message of wisdom among the mature, but not the wisdom of this age or of the rulers of this age, who are coming to nothing. No, we declare God's wisdom, a mystery that has been hidden and that God destined for our glory before time began.
Real wisdom begins in knowing God
The fear of the Lord is the beginning of wisdom, and knowledge of the Holy One is understanding.   Proverbs 9:10
Wisdom grows through an ongoing relationship with God…
If any of you lacks wisdom, you should ask God, who gives generously to all without finding fault, and it will be given to you.   James 1:5
Wisdom results in Godly fruit not flowery notions…
For John came neither eating nor drinking, and they say, 'He has a demon.' The Son of Man came eating and drinking, and they say, 'Here is a glutton and a drunkard, a friend of tax collectors and 'sinners.' But wisdom is proved right by her actions."
Matthew 11:18-19
Culture vs. Christianity
Part 1: Corinth vs. Paul Acts 19; 1 Corinthians 1:10-17
Sunday January 4, 2015
 Background on First Corinthians
 Author…The Apostle Paul (1:1; 16:21), joined by Sosthenes, who very possibly was the synagogue leader mentioned in Acts 18:17. The authorship of Paul is also affirmed by Clement of Rome in 95 A.D.
 Place of Writing..The city of Ephesus (16:8).
 Time of Writing…Probably in the spring of 57 A.D., shortly before the Jewish feast of Pentecost (16:8), during Paul's third missionary journey (Acts 19:1-41). (See Bible Map of Paul's Missionary Journeys)
The City of Corinth
Corinth was situated on the Isthmus of Greece (called Achaia in the Bible) between the Ionian Sea and the Aegean Sea, above the Mediterranean Sea. About 50 miles to the east was the city of Athens. The Corinth of Paul's day was relatively new. The old Corinth was burned in 146 B.C. Because it was a city devoted to the gods, a hundred years were required to pass before the city could be rebuilt. In 46 B.C., Julius Caesar rebuilt the city, populated it with a colony of military veterans and freedmen, and named it Julia Corinthus. It soon became a very important commercial center. With a population of 400,000 and being a prominent center of commerce in the Mediterranean world, it was a place for all sorts of vice.
 All the evidence together suggests that Paul's Corinth was at once the New York, Los Angeles, and Las Vegas of the ancient world.  – William Barclay
 Purpose for the Letter
Bad news concerning the problems at Corinth had reached Paul in Ephesus.It seems that this news came from at least two sources:
the household of Chloe (1:11)
a letter sent to him (7:1) requesting clarification on certain topics or even arguing against positions Paul had previously addressed.
In answer to these reports Paul writes to correct worldly practices and instill a pattern of Christlike behavior approprieate for the Gospel to which he has been entrusted.
 Although they were the Christian church at Corinth, an inordinate amount of Corinth was yet in them, emerging in a number of attitudes and behaviors that required radical surgery without killing the patient. This is what I Corinthians attempts to do. – New International Commentary
 Issues Going on in Corinth
Spiritual Pride
Sexual Promiscuity
Congregational Division
Leadership Tensions
Theological Confusion
Legal Disputes
Relationship Questions
 A Church Divided
"Now I plead with you, brethren, by the name of our Lord Jesus Christ, that you all speak the same thing, and that there be no divisions among you, but that you be perfectly joined together in the same mind and in the same judgment." My brothers and sisters, some from Chloe's household have informed me that there are quarrels among you. What I mean is this: One of you says, "I follow Paul"; another, "I follow Apollos"; another, "I follow Peter"; still another, "I follow Christ." Is Christ divided? Was Paul crucified for you? Were you baptized in the name of Paul? I thank God that I did not baptize any of you except Crispus and Gaius, so no one can say that you were baptized in my name. (Yes, I also baptized the household of Stephanas; beyond that, I don't remember if I baptized anyone else.) For Christ did not send me to baptize, but to preach the gospel—not with wisdom and eloquence, lest the cross of Christ be emptied of its power. I Corinthians 1:10-17
 Jesus' Desire for Unity in His Church
"My prayer is not for them alone. I pray also for those who will believe in me through their message, that all of them may be one, Father, just as you are in me and I am in you. May they also be in us so that the world may believe that you have sent me. I have given them the glory that you gave me, that they may be one as we are one—I in them and you in me—so that they may be brought to complete unity. Then the world will know that you sent me and have loved them even as you have loved me."   -Jesus, from John 17
 Healthy Ways to Remain & Grow in Unity
Praying Together   For each other, our church family, & our leadership.
Prioritizing Relationships: Sunday Community Time, Last Sundays, Small Groups.
Keep Our Focus on Jesus and What He Has Called Us To Love God, Love Your Neighbor.