Expect a friendly community who cares for you and wants to help you build your relationship with God!
What should I wear?
Come as you are, there is no dress code. Most dress casual so feel free to come as you feel comfortable.
Do I need to bring a Bible to the service?
No, you don't need to but you can if you would like to. We project the message outline and Bible verses on a large screen to make it easy to follow along. For those who like to take notes there is space on the back of the Welcome Card to write down your thoughts and personal reflections.
What will I experience in the service?
Heartfelt music along with thoughtful and practical Biblical teaching in a friendly, relaxed environment. A typical service looks like the following:
A couple worship songs to begin our gathering together.
A welcome by our pastor.
A time to share what's going on in our church family and pray for a family/individual, ministry, or cause of Neighborhood Church.
A Biblically based message to strengthen your relationship with God and apply to your life and relationships.
A time of worship to respond to God through singing, prayer, and communion.
Community time to connect with each other, enjoy refreshments, and meet our pastor and leaders.
We are usually finished in an hour and fifteen minutes but feel free to linger.
What is available for my kids?
Our Neighborhood Kids ministry is a safe and fun environment for infants through elementary students. You can check them into the kids area upon arrival at the Welcome Table. Children and a Parent are each given a matching ID sticker for security.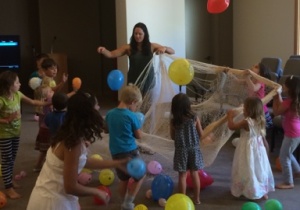 NC Youth (middle through high school students) are invited to start out in the main service for our Welcome and Spotlight and then go to the youth room for their own group time.
Do I have to participate in a financial offering?
No, we don't pass an offering plate during the service and we do not expect guests to contribute financially. There is a Giving Box in the back of the room for those who call Neighborhood Church their faith community to place offerings as a way of giving back to God for all He provides. Many people who support Neighborhood Church send their checks through the mail or give electronically through our Online Giving system (see the Giving Page of the website for more information).
Do you serve Communion?
Communion is available every Sunday for anyone who desires to include The Lord's Supper in their worship experience. You are invited to the Lord's Table during our time of worship after the message. Our usual format is to take a piece of bread and dip it in the cup of grape juice. We have regular bread along with gluten-free bread.